The Pelican International 15.5 canoe is built tough, for many years of recreational paddling on rivers and lakes. It's constructed of legendary RAM-X plastic, a durable material that's proven to stand up to the rigors of rocky rivers. The Pelican 15.5 leisure canoe is versatile, with three seats that make it suitable for tandem and solo paddling as well as outings with three paddlers.
This 15.5-foot canoe has plenty of volume for weekend trips and more, with good depth to make it seaworthy in rough conditions and a flat bottom for good initial stability. With a price well under $1,000, our 15.5 Pelican canoe review concludes that this classic canoe remains budget-friendly while offering solid performance and outstanding durability.
On the water with the Pelican 15.5
Pelican 15.5 Specs

Length: 15'6" / 4.75 m

Width: 37.5" / 95 cm

Weight: 81 lbs / 37 kg

Capacity: 800 lbs / 363 kg

MSRP:

$469 USD / $759 CAD
Performance
Many paddlers note that the Pelican 15.5 has the perfect blend of speed, stability and maneuverability. We would have to agree; it's our exact definition of an all-around recreational watercraft.
The Pelican International 15.5 canoe handles well on rivers and lakes, with the capacity to handle backcountry canoe camping trips ranging from a weekend to a week in length. The 81-pound weight makes it heavy to carry but lends durability and also allows the 15.5-foot Pelican canoe to feel secure in stronger winds.
Market and demographics
This 15.5-foot Pelican canoe is billed as a river canoe, with good maneuverability to help you steer around obstacles. And when you hit a rock, the patented RAM-X plastic hull is built to withstand years of use (and even abuse). The keel is the centreline of the hull from bow to stern. Pelican has reinforced the keel line of the 15.5 canoe with an aluminum rod to ensure structural integrity and paddling efficiency.
It's part of what makes the Pelican 15.5 an excellent choice if you're looking for a cheap canoe that has been built to last and will work well in a variety of applications. You can store it outside (ideally in a shaded location) without any worry of the Pelican 15.5 being damaged by the elements.
The Pelican 15.5 canoe comes equipped with fishing rod holders and three molded seats, making it suitable for anglers, families and solo paddlers. Use it at the cottage or on a day trip at your neighbourhood pond. There is much to be said for such a versatile canoe at this price.
Comfort
The molded plastic seats of the Pelican 15.5 canoe are highly functional, tough and reasonably comfortable—and they can be modified for longer days on the water (see below). It's important to note that the Pelican 15.5's plastic hull is far more comfortable to paddle than comparable aluminum canoes. It offers two main advantages over aluminum: The RAM-X plastic remains cool to the touch in hot weather and provides insulation between paddlers and cold water.
About the Pelican 15.5 canoe
Design
Design features and details
The most notable design features of the Pelican 15.5 canoe are its moderate rocker, flat-bottomed cross-section profile and flared entry lines. Combined, these features produce a canoe that responds well to paddle strokes on twisty and rock-studded rivers, with excellent stability and a dry ride in waves and chop.
A pronounced keel running along the bottom of the canoe allows the Pelican 15.5 to track straight on lakes; it also adds stiffness to the supple RAM-X hull, making it more efficient to paddle.
Material and construction
The Pelican 15.5 canoe is made of RAM-X, a proprietary polyethylene plastic that's impressively durable. In fact, this heavy-duty canoe tripping material has a long track record of durability, originating with Coleman canoes in the 1980s. Pelican uses an aluminum rod along the keel line to increase stiffness in the hull to make it more efficient to paddle.
Outfitting and accessories
The Pelican 15.5 is outfitted like a classic canoe, with molded bench seats. Creature comforts include drink and fishing rod holders. Carry handles at either end of the canoe make it easier to haul the 81-pound Pelican 15.5 from a vehicle or boathouse to the water's edge for launching.
Replacement seats are available from the manufacturer, and though it seems unlikely that these durable, foam-filled molded plastic seats will break, some Pelican 15.5 owners have reported a need for replacement. The process of swapping in a new seat is as easy as removing and re-attaching a few nuts and bolts.
Opportunities for modifications
Adding padding and a backrest to the seat is a great modification that increases the comfort factor of the Pelican 15.5 canoe. These can be as simple as stadium seats, fastened to the molded plastic benches. If you're an angler, you may wish to install items like a fish-finder and bait wells to your Pelican 15.5. Glued-in knee pads are a simple upgrade that make it more comfortable to safely paddle the Pelican 15.5 in whitewater.
How it compares
The Pelican International 15.5 canoe strikes a nice balance between an expedition-ready tripping canoe and a compact day paddler, with attributes and design features that cater to both niches. The third seat sets it apart from Pelican's other canoes. This allows you to paddle tandem or solo, or with a passenger in the center.
Where to buy the 15.5
You'll find the Pelican 15.5 canoe for sale at many outlets in Canada and the United States. Searching "Pelican 15.5 canoe Canadian Tire" will reveal availability across Canada. It's also available at Walmart, Home Hardware and Peavey Mart.
The Pelican 15.5 canoe is marketed as the Pelican 15.5 Dakota in the United States. Look to find deals at box stores like Academy Sports.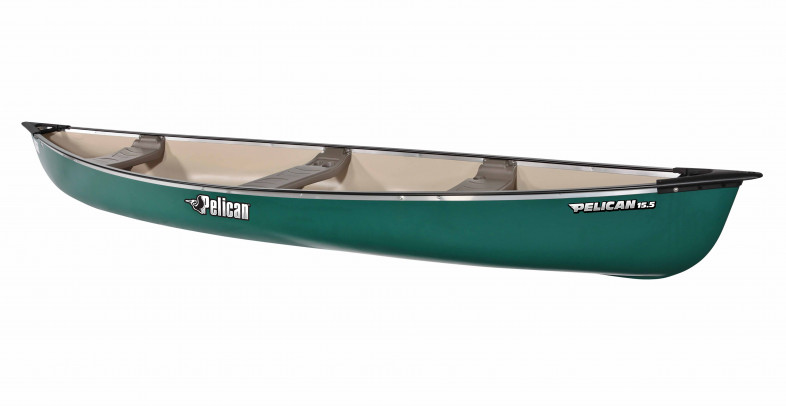 Pelican
Pelican 15.5
The PELICAN 15.5 canoe is the ideal compromise between tracking and manoeuverability. Shorter than an expedition canoe, it is perfect for solo or tandem rides. This canoe features three molded bench seats, vertical rod holders, drink holder and carrying handles. Made of RAM-X™, it is built to last. Our ALUMINUM BEAVERTAIL canoe paddles are must have accessories to fully enjoy your PELICAN 15.5 and create memorable exploration stories worth sharing with everyone.
3 Vertical rod holders
Aluminium gunnels with protective sleeve
Carrying handles
Molded bench seats
Pelican 15.5 pros and cons
Pros
Jack-of-all-trades canoe that meets the demands of a wide variety of users, including river runners, anglers, cottagers, families, day trippers and overnight campers
Handles well on lakes and rivers with up to class II rapids
Outfitting is basic and can be modified to increase comfort
RAM-X hull is ultra tough, and able to withstand impacts and bounce off rocks
Related articles
Recreational canoe reviews
Coming soon