Maine-based Old Town Canoe Company has been building canoes since 1900. It's reasonable to view Old Town's Discovery 119 solo canoe as a descendent of the company's iconic wood-and-canvas canoes. That's quite a legacy to uphold, and the Old Town Discovery 119 canoe honors and updates the tradition with nimble performance and durable polyethylene plastic construction.
The Discovery 119 canoe is an outstanding choice for fishing and recreational use, suitable for single-blade canoe and double-blade kayak paddles. Its compact dimensions and ability to go anywhere make it especially popular among anglers and hunters.
This Old Town Discovery 119 canoe review will highlight its design characteristics and performance attributes, letting you know if you're the right paddler for this versatile solo boat.
On the water with the Discovery 119
Discovery 119 Specs

Length: 11'9" / 3.6 m

Width: 32.5" / 83 cm

Weight: 50 lbs / 22.7 kg

Capacity: 450 lbs / 204 kg

MSRP:

$999
Performance
The Old Town Discovery 119 canoe boasts an impressive blend of speed, stability, maneuverability and tracking—with enough carrying capacity for short solo canoe camping trips, angling outings and duck hunts. The Discovery 119's compact dimensions allow it to accelerate quickly, especially when propelled with a double-bladed kayak paddle; cruising speed is impressive given its short length.
At 32.5 inches wide, the Old Town Discovery 119 strikes a fine balance: it's narrow enough for easy solo paddling yet also remains quite stable for novice paddlers. There's plenty of room ahead of the paddler to fit a well-behaved mid-sized dog. The handling of any canoe is determined by its length and rocker (is the bow-to-stern profile of the hull curved like a banana or flat?). The Discovery 119 has moderate upturn at the bow and stern, creating some rocker for maneuverability.
Meanwhile, the Old Town Discovery 119's sub-12-foot length adds to its ease of handling—though this comes at the expense of some glide and speed (shorter canoes tend to be slower than longer ones). The Discovery 119 is easiest to handle with a double-bladed paddle; some steering stroke technique is required if you want to propel this craft with a single-bladed paddle.
Market and demographics
"Versatile" is perhaps the best word to describe the Old Town Discovery 119. It makes an excellent solo tripping canoe for smaller paddlers and an excellent day tripper for larger paddlers or those who like to get on the water with their dog. The Discovery 119 is all the boat you need if you're looking for a general-purpose solo canoe that excels in the conditions encountered on small lakes and gentle rivers.
Old Town Discovery 119 whitewater performance is adequate for Class I and II rivers in the hands of a skilled paddler. Overall, this canoe performs admirably, is easy to carry and cartop, and is built to last.
Fishing is a blast in the Old Town Discovery 119. With reassuring stability and plenty of space for rods and tackle, the Discovery 119 is a solid choice for anglers. Once again, versatility is the name of the game: The Discovery 119 is a crossover canoe, an excellent choice for dedicated paddlers who also like to fish. In fact, a dedicated Old Town Discovery 119 Solo Sportsman model is available, rigged with rod and ammo holders and a kayak-style seat for added stability.
Comfort
The basic Old Town Discovery 119 canoe comes equipped like a traditional canoe with ash-framed web seats and ash crossbars. It's best for use with a single-bladed paddle in the kneeling or sitting position, though it's also comfortable with a longer kayak-style paddle.
The upgraded 119 Solo and 119 Solo Sportsman models both have a kayak-style adjustable, bucket-style seat with an articulated backrest and adjustable foot braces. The lower seat position makes it most comfortable for use with a double-bladed paddle.
About the Discovery 119 canoe
Design
Design features and details
The Old Town Discovery 119 canoe has the look and feel of a traditional canoe. It paddles predictably, responding nimbly to paddle strokes and remaining stable in rough conditions. Credit the Discovery 119's shallow arch hull (which responds to weight shifts smoothly) and straight sides for this solo canoe's predictable performance.
The compact 11.9-foot length combines with moderate rocker for good maneuverability around obstructions and in moving water. The Old Town Discovery 119's polyethylene construction is extremely buoyant; its blunt entry lines at the bow and stern allow the canoe to float over waves, making for a dry ride in choppy conditions.
Material and construction
The Old Town Discovery 119 canoe is constructed of three-layer polyethylene, a stiff and durable plastic laminate. Old Town stands behind the durability of its canoes: The Discovery 119 comes backed with a limited lifetime warranty.
The Old Town Discovery 119 will easily stand up to most impacts encountered while whitewater canoeing and is plenty tough for the entire family to use around the cabin. The weight penalty that comes with bombproof construction is minimal in the compact Discovery 119; the base model weighs a manageable 50 pounds.
Design trends
The Old Town Discovery 119 bridges the gap between traditional solo canoes and compact "pack" canoes, which are often propelled with double-bladed kayak paddles. You get the best of both worlds: A durable, river-ready craft with elegant lines that can be used with either a canoe or kayak paddle. What's more, the Discovery 119 is also a perfect choice for dedicated paddlers who like to hunt and fish.
Old Town Discovery 119 outfitting and accessories
The standard Old Town Discovery 119 comes equipped with a traditional ash-framed web seat, hung from the gunwales. It looks Spartan, but has the advantage of versatility, allowing you to sit to either side to tilt the canoe or to kneel with your feet tucked underneath (so long as your feet aren't too large). This is the preferred posture for many experienced paddlers and highly recommended for engaged paddling and whitewater conditions.
Outfitting in this traditional-style canoe remains basic, with ash thwarts and carry handles molded into the bow and stern decks. Note that the Old Town Discovery 119 is outfitted for solo paddling and lacks a center thwart or yoke for portaging; you'll want to buy a removable yoke if you plan on portaging the Discovery 119 for any distance on canoe trips.
The Old Town Discovery 119 seat gets an upgrade in the Solo and Solo Sportsman models, with a kayak-style bucket seat installed close to the floor of the canoe. It's the best choice if you intend to use a kayak paddle (at which point the included foot braces become essential). These versions include drink holders and, in the Sportsman model, fishing rod and ammunition holders.
Ready-made Old Town Discovery 119 trolling motor kits are not available from the manufacturer, however many Discovery 119 anglers have come up with creative DIY solutions to retrofit their canoe with a trolling motor mount bracket.
Old Town Discovery 119 modifications
The easiest way to make an Old Town Discovery 119 seat upgrade is to select either the Solo or Solo Sportsman model, both of which come with a kayak-style seat and adjustable backband for lumbar support. If you have the time and skills to make upgrades yourself, it's possible to carve a custom seat from closed-cell foam and install it in the hull with a structural adhesive, such as Vinyl Tec 2000. Follow the instructions carefully to ensure a lasting bond.
Another seat upgrade is to replace the standard, bench-style seat with a contoured seat, which are available online. With this approach you can change the height of the seat below the gunwales with different length spacers and bolts.
Warranty
The durable Old Town Discovery 119 comes backed with a limited lifetime warranty, which covers the three-layer polyethylene hull and deck plates, covering defects in workmanship and materials.
How it compares
Old Town Discovery 119 vs Guide 119

The Old Town Discovery 119 and Old Town Guide 119 are the same canoe, except the guide has a tractor-style molded plastic seat, with backrest. This style of seat is better for those who prefer a double-blade kayak paddle. Otherwise, performance is virtually identical. The Guide 119 was produced for Dick's Sporting Goods in the U.S.—and has since been discontinued. The Old Town Guide 119 is still available on the used market; begin by searching Old Town Guide 119 Craigslist.

Old Town Discovery 119 vs Next

Old Town plugged the Next as "the future of paddling," touting this 13-footer as a cross between a canoe and kayak. It's longer and narrower than the Old Town Discovery 119, making it somewhat faster and easier to paddle, at the expense of stability. The Next tips the scales at 59 pounds, nearly 10 pounds heavier than the Discovery 119 solo canoe. It boasts the same three-layer polyethylene construction.

Comfort-wise, the Next features Old Town's Element Seating System, which offers great adjustability. Choose the Old Town Discovery 119 if you're looking for a traditional solo canoe experience and prefer a single-bladed paddle. The Next features far more bells and whistles—and is a superior choice if you want to use a kayak paddle.

Old Town Discovery 119 vs Old Town Pack

The main difference between the Old Town Pack and Discovery 119 is construction: The discontinued Pack was made of Royalex, a durable plastic laminate that is stiffer and somewhat lighter than polyethylene. As a result, the 12-foot Pack weighs only 33 pounds, making it a great choice for canoe trips with lots of portages. Otherwise, the two canoes are virtually identical.

Similar to the Old Town Discovery 119, the Pack is ideal for those who prefer using a single-bladed canoe paddle. It also features an ash-frame web seat that's hung from the gunwales. The Pack was a popular canoe and remains available on the used market; try searching Old Town Pack on Craigslist or Kijiji.
Where to buy the Discovery 119
Old Town Discovery 119 solo canoes are widely available from paddlesports retailers across North America; visit the Old Town website for a complete list of retailers. Looking to save a few dollars? Google Old Town Discovery 119 Craigslist to comb the used market.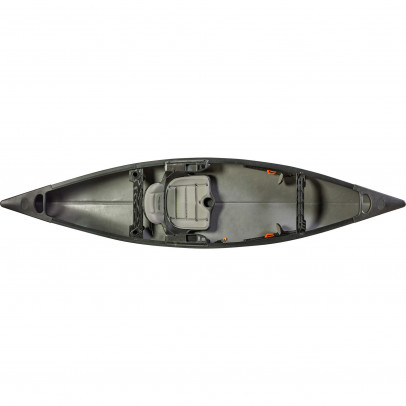 Old Town Canoes and Kayaks
Discovery 119 Solo Sportsman
Combining the best of both worlds, Old Town delivers the ideal grab-n-go watercraft for anglers and hunters alike. Offering the simplicity and utility of a classic solo canoe with the agility and sleek handling of a kayak, the Discovery 119 Solo Sportsman hybrid canoe is a stable, lightweight boat that is easy to handle on and off the water.
Same durable three-layer hull found on the Discovery series
Lightweight grab-n-go design
Contoured, adjustable kayak-style seat
Two flush-mount rod holders behind the seat
Shotgun shell and tackle storage
Discovery 119 pros and cons
Pros
Great for those who wish to paddle independently
Big enough to be safe and seaworthy
Small enough and cleverly designed to be easy to control, even for beginner paddlers
Can be paddled with a single- or double-bladed paddle
Provides stable platform for anglers to fish from
Performance is plenty adequate for Class I and II rivers
Solid tripping canoe for outings up to a week in length
Cons
Old Town Discovery 119 Solo or Solo Sportsman are better if you prefer an adjustable kayak-style seat
Will need to buy a removable portage yoke if you wish to use it for canoe trips where portages are necessary
Weighs a solid 50 pounds, making it a bit of a grunt to load on taller vehicles and a challenge for longer portages
Related articles
Old Town canoe reviews
Recreational canoe reviews