There's a lot to like about the Old Town Otter kayak. This classic sit-inside recreational kayak may be discontinued, but there are plenty of these compact, lightweight and virtually indestructible kayaks floating around on the used market—often for bargain prices and ideal for beginners looking for a taste of kayaking.
The Old Town Otter offers excellent value in a basic, entry-level recreational kayak that fits a wide range of paddlers and performs well in flatwater conditions.
Since the Otter's conception in the 1990s, various Otter models have been sold at outdoor stores across North America by the thousands. The models included: the original Old Town Otter; the Old Town Otter XT; the Old Town Otter Sport; and the Old Town Otter Plus kayak. All were nearly the same, with a stable 9-foot, 6-inch hull, great handling, a large, easy to enter cockpit and simple outfitting. An Old Town Otter Twin two-person recreational kayak was also produced for a period of time.
For the sake of simplicity, our review describes the general features of all Old Town Otter models and highlights any differences in the models when relevant.
On the water with Old Town's Otter
Old Town Otter Specs

Length: 9'6" / 2.9 m

Width: 28.5" / 75 cm

Weight: 39 lbs / 17.7 kg

Capacity: 225 lbs / 102 kg
Performance
The Old Town Otter kayak is best described as short and squat; its overall dimensions contribute to modest speed, excellent maneuverability and rock-solid stability. This recreational kayak is easy to handle in flatwater conditions and up to Class II moving water, if equipped with a spray skirt.
The short length makes the Old Town Otter perfect for exploring narrow rivers and wetlands; however, the short length makes it bob like a cork in waves and chop—stick to sheltered water and easy rivers for best performance and safety.
Market and demographics
This is the quintessential beginner kayak and it's hard to find a body type that won't fit in the Old Town Otter. In fact, Otter owners indicate that its maximum capacity of 225 pounds can easily be pushed to 250 pounds without compromising performance or seaworthiness.
There's enough legroom inside for paddlers up to 6'2" (190 cm) tall. Yet its short length and easy handling makes the Old Town Otter perfect for youngsters ages 8 and up.
The Old Town Otter kayak is a great boat for the cottage, beach or campground, offering worry-free durability. It's also a good choice for paddlers looking for a lightweight kayak that's easy to car-top and carry to the launch.
Comfort
The Old Town Otter kayak's rudimentary outfitting reveals its stature as a "vintage" recreational kayak. The original Old Town Otter model did not include foot pegs, a standard feature in all kayaks today (foot pegs are one upgrade included in the Old Town Otter XT).
Invest in a newer kayak such as the Old Town Loon if you desire cushy seating, adjustable thigh braces and other comfort features. If you're handy, it's easy to add comfort to the Old Town Otter with glued in foam pads and DIY seat modifications.
About the Otter kayak
Design
Design features and details
The Old Town Otter kayak offers no surprises on the water, owing to its stable, flat bottom and symmetrical hull design. Its lines mirror everything you'd expect in a kayak: a pointed bow and stern with low profile to minimize exposure to winds, front and back decks for seaworthiness, as well as a large cockpit for easy entry and exit. The bow widens quickly to its 28.5-inch maximum width, offering reassuring stability but compromising speed and glide.
The bow and stern are both low profile and close to the water, making the Old Town Otter easier to handle in winds but also meaning that choppy waves can break over the ends of the kayak.
Shorter kayaks are always more maneuverable than long ones, and the compact, 9.5-foot Old Town Otter is easy to turn and handle. However, the flipside of short length is a lack of speed and glide, and the Otter is no exception. Traveling any distance in the Otter will be a workout compared to longer kayaks.
Material and construction
Besides a user-friendly hull design, another big attribute of the Old Town Otter kayak is its bombproof construction. The Otter is made from rotomolded polyethylene plastic.
The fact that original Old Town Otter kayaks manufactured over two decades ago are still going strong attests to the supreme durability of this no-maintenance material. Leave it on the dock, drag it over rocks or store it in a snowbank for the winter: regardless of the abuse, the Otter kayak will come back for more.
Design trends
With its design dating back to the 1990s, the Old Town Otter is one of the original recreational kayaks. It was conceived at a time when kayaking was divided into two disciplines: whitewater and touring.
Early recreational kayaks like the Old Town Otter created a new category for beginners, cottagers and day paddlers, providing stable and comfortable designs that were more compact and easy to transport than traditional sea kayaks and far easier to paddle than dedicated whitewater kayaks.
Old Town Otter kayak outfitting and accessories
As a pioneering recreational kayak the Old Town Otter was among the first to include features that are standard in today's entry-level kayaks, including the high back seat. The seating arrangement on the Old Town Otter feels basic compared to some of the ultra-adjustable and padded seats in contemporary kayaks, but it's still very supportive and easy to modify with glued-in padding.
Foot pegs were added to the Old Town Otter XT kayak model, offering good support that adjusts easily with a push button—just be sure to avoid tracking too much sand and grit into the cockpit, since this can jam sliding foot pegs. Standard replacement Old Town Otter kayak foot pegs are available from the manufacturer and other kayak retailers.
The Old Town Otter kayak spray skirt is available to stretch over the kayak's 38- by 19-inch cockpit to keep waves and chop out of the kayak and provide protection from the elements; spray skirts are available in lightweight nylon (best for sheltered waters) and robust neoprene (best if you want to paddle the Otter in whitewater). Look for a spray skirt size of 2.5 from popular manufacturer Seals Sprayskirts to fit all Old Town Otter models except the tandem Old Town Otter Twin.
Pick up an Old Town Otter kayak cockpit cover to keep creepy crawlies out of your kayak when it's in storage.
Opportunity for modifications
Like any kayak, there are plenty of ways you can improve a basic Old Town Otter kayak. Start by adding foam to the seat, hip area and thigh braces to custom fit your body to the boat—a key modification if you're looking to paddle in moving water where good boat control is necessary. You can also glue a thin layer of foam beneath your heels in the cockpit to pad your heels and keep your feet comfortable.
The deck rigging on many used Old Town Otter kayaks can be replaced with tighter bungees and lines for better on-deck storage of small essentials. It's easy to spend an afternoon making an Otter kayak more comfortable and functional with modifications.
How it compares
The original Old Town Otter was an instant classic, helping to define recreational kayaking as a new genre. Old Town followed up the success of the Otter by modifying it with models like the Old Town Otter XT and renaming it (and changing some dimensions) as the Old Town Loon.
The most similar model in Old Town's current kayak lineup is the Old Town Loon 106.
Old Town Otter vs Otter XT

If you have a choice, go for the Old Town Otter XT over the original edition. The Otter XT features the same dimensions and identical performance, with the critical upgrade of adding adjustable foot pegs to the cockpit.

Foot pegs improve paddler fit in the boat and allow you to paddle more efficiently by transferring energy from your entire body to the kayak, making your strokes more effective. Foot pegs also reduce paddler fatigue by improving posture while seated in the kayak.

Old Town Loon vs Otter

The Old Town Loon replaced the Old Town Otter kayak with key comfort features like more adjustable seating and a variety of lengths and sizes to fit a wider range of paddlers. The current Old Town Loon 106 measures a foot longer than the Otter, upping its maximum paddler capacity to 272 pounds.

Old Town Loon kayaks include padded seats (the current model's ACS2 seat is one of the best on the market) and dry hatches for storing gear for a day trip. Simply put, the Old Town Otter kayak looks primitive alongside the creature comforts of the newer Loon. A variety of Loon kayaks are available in different lengths to match different paddler sizes and needs.
Where to buy the Old Town Otter
You will no longer find Old Town Otter kayaks at outdoor stores since the model was discontinued by the manufacturer. Besides trolling yard sales in cottage areas, your best bet is searching Old Town Otter kayak Craigslist for a bargain on this classic entry level kayak.
Expect to pay between $150 and $250 for a used Old Town Otter kayak in good shape. Similar Old Town Loon kayaks are available at paddlesports retailers across North America.
Similar to Old Town Otter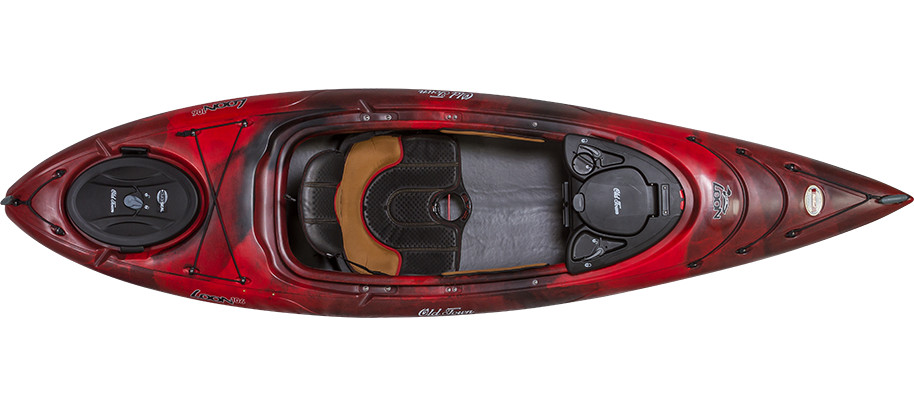 Similar to Old Town Otter
Old Town Canoes and Kayaks
Loon 106
Twenty years ago, we created the Loon series and changed the way paddlesports viewed recreational kayaks. Today, the Loon series continues to revolutionize the sport as we tweak, twist and transform our old design to devise the world's most advanced recreational kayak. Our latest Loon features the ACS2 seat, creating the most advanced and best-fitting cockpit available.
Active Comfort System 2.0 (ACS2) Seat
Removable Workdeck with USB
Support Track Foot Brace System
Click Seal Hatch with Bulkhead
Bow and Stern Deck Bungees
Old Town Otter pros and cons
Pros
One of the earliest recreational kayaks to hit the market, the Old Town Otter kayak helped define a new style of safe, comfortable and easy to paddle kayaks meant for day touring and cottage use on sheltered water
Predictable handling in flatwater and river conditions
Compact dimensions and a relatively light weight for portability
Outstanding durability that's proven to stand the test of time
Cons
As a classic design, the biggest knock on the Old Town Otter kayak is its primitive outfitting compared to modern recreational kayaks
Look for the upgraded Old Town Otter XT kayak for adjustable foot pegs and be prepared to make some modifications to the basic cockpit to add comfort
Compact dimensions limit its overall speed (yet also make it super easy to handle)
Related articles
Old Town kayak reviews
Sit-inside recreational kayak reviews