When a box about the size of a cooler with a kayak pictured on it was dropped off at my doorstep, I was intrigued. Pulling the Intex Explorer K2 out of the box, I could see this inflatable was a significant step up from cheap, pool toy-type boats.
The Intex Explorer K2 isn't as robust as the inflatable kayaks I've used for paddling demanding whitewater rapids; instead, it's right in the affordable sweet spot for exploring calm lakes and mild rivers. The Intex Explorer K2 inflatable kayak is ideal for beginner to intermediate paddlers who need a kayak that doesn't take up too much space at home, and that can get one or two people out on gentle waters for a leisurely paddle.
The Intex Explorer K2 comes packed up with most of the things you need to hit the water, including two aluminum paddles and a pump. Like other inflatable kayaks, the Explorer K2 sets up easily and packs small, making it great for those with limited storage. It's also among the most affordable kayaks on the market, so it's a great choice for those wishing to try kayaking without making a huge investment in a boat or a place to store it.
This Intex Explorer K2 review will cover the boat's main features, along with its strengths and weaknesses to help you decide if it's the right kayak for you.
On the water with the Intex Explorer K2
Intex Explorer K2 Specs

Length: 10'3" / 3.12 m

Width: 36" / 91.5 cm

Weight: 30.6 lbs / 13.9 kg

Capacity: 400 lbs / 181 kg

MSRP: $250 USD
(incl. pump and paddles)
Performance
Like other inflatable kayaks, the Intex Explorer K2 feels very stable and predictable. Even without the skeg, I found it easy to control and get up to cruising speed. If you are used to paddling hardshell kayaks, the Explorer K2 is noticeably slower, but its acceleration and glide are typical for an inflatable of its size.
The bow and stern have enough rocker—upsweep from the center of the hull through the ends—to ride up and over smaller choppy waves, keeping the paddlers nice and dry. The vinyl-covered decks also deflect smaller splashes out of the ends of the kayak, and my beagle Ellie found the bow deck provided a fairly stable platform for her to scan for wildlife!
The Intex Explorer K2 weight capacity is 400 lbs (180 kg). I never loaded it to the maximum capacity, but with over 300 lbs it handled well and didn't give me that sinking feeling.
Comfort
The Intex Explorer K2 comes with two inflatable seats that are comfortable and provide ample support once you get them fitted properly. It's worth taking the extra minute or so to adjust the attachment straps to ensure the seats are positioned correctly; with plenty of legroom, you can move them around in a variety of ways to accommodate one or two paddlers.
Market and demographics
So who should buy the Intex Explorer K2? If you're looking for an inflatable kayak that can seat one or two paddlers and should last most weekend warriors several seasons on sheltered waters, the Explorer K2 is a solid choice at a budget price.
If you're looking to develop your skills or spend more time in the kayak, look at a higher performance inflatable kayak to meet your needs. But for many beginner paddlers, the versatile Explorer K2 is a great way to enjoy an hour or two on the water without all the equipment taking over the spare room.
About the Intex Explorer K2
Design
Design features and details
The Intex Explorer K2 kayak is essentially a kayak-shaped rubber raft, like the type you will find at discount prices at any big-box department store. It has two large air chambers running the perimeter of the boat and a flat bottom made up of smaller tubes, known as "I-beams." This is a great attribute for stability, but far less desirable if you're interested in paddling for longer distances.
A removable skeg—or fin, which attaches to the stern of the kayak— aids in keeping travel in a straight line. The large, open cockpit of the Intex Explorer K2 kayak is easy to enter and exit, and combined with the boat's exceptional stability, makes this model ideal for first-time paddlers. Along with the boat's shallow depth, an open cockpit increases the risk of swamping in rough water. The Explorer K2 should only be used in sheltered, calm conditions.
Material and construction
When it comes to the material and durability of the Intex Explorer K2, the vinyl construction feels quite robust. The floor has an inflatable I-beam system, which is basically a flat bottom made up of smaller air tubes, that helps give it some stiffness. A drop-stitch floor—like those found on high-end inflatable boats designed for whitewater use—would increase the cost and weight, making an I-beam floor a good compromise between cost, weight and rigidity.
One of the biggest concerns with any inflatable kayak is its durability. The Intex Explorer K2's vinyl hull is resistant to impacts with blunt objects and abrasions. My canine companion isn't the calmest paddling partner, but she didn't make any scratch marks, scuffs or punctures on our outings. I've also pulled the Explorer K2 up on sandy beaches with no issues, although I wouldn't get into the habit of dragging it around on shore.
With three separate air chambers, a single punctured tube won't sink the Intex Explorer K2, but it will affect performance and buoyancy and should be repaired as soon as possible. The kayak comes with a few small patches for straightforward repairs.
Bargain kayaks like the Intex Explorer K2 don't have the same UV-resistant qualities as more expensive boats, and therefore should be stored out of the sun. I also recommend rinsing thoroughly to remove any sand or grit and drying completely before storage.
Intex Explorer K2 kayak accessories and outfitting
Intex Explorer K2 accessories and outfitting include two inflatable seats with back rests, two aluminum kayak paddles, bow and stern lines, air pump and skeg. The Intex Explorer K2 kayak skeg is a key accessory that improves tracking; this removable fin attaches to the stern of the kayak to make it easier to paddle in a straight line.
The two-piece paddles break down for transport and blade angle, A.K.A. feather, can be adjusted to suit most paddlers' preferences. The paddle drip rings and rubberized grip area give the paddle a comfortable feel in the hands and help keep your hands dry. The included high-output pump allows for easy inflation and deflation of the Intex Explorer K2 in just a few minutes.
You'll also find handles and grab lines on the bow and stern of the Intex Explorer K2 kayak for carrying the boat with a partner to and from the water. The lines can also be used to clip on anything you don't want to lose, or secure the kayak to a dock or shoreline.
Warranty
The Intex Explorer K2 kayak warranty is 90 days. You can find warranty details on the Intex website, but basically if the product is found defective you have 90 days to make a claim. This doesn't mean that if your Explorer K2 gets bitten by an ornery snapping turtle, Intex will send you a new one.
Intex Explorer K2 setup
Intex Explorer K2 kayak assembly using the included pump is easy and takes a typical paddler less than 10 minutes. The Explorer K2 has five valves to inflate the different chambers of the boat, each clearly labeled in the order of inflation. The pump also comes with three different tips, depending on which valve type and size you are inflating.
The floor, bow and stern use valves similar to what you would find on a beach ball; the sides of the kayak use Boston valves, which have a double valve cap that is designed for quick one-way inflating and deflating. Be sure the valve is screwed in and seated next to the kayak, and then take the cap off to inflate.
From box to boat, Intex Explorer K2 kayak assembly is less than 10 minutes—or about the same time that it takes most paddlers to tie and untie a boat from their roof rack. You could likely cut that time in half with a larger or electric pump, however the manual warns, many times: do not over inflate and do not use high pressure compressor.
Intex includes an inflation measurement card, but realistically after you inflate the boat a few times you will probably have a good idea just based on feel. Keep in mind that things in the cold shrink and in the heat expand so depending on where you are paddling you may need to add or let out air to keep the kayak at the optimum inflation.
Once you've inflated the main chambers, inflate and install the seats. These Velcro to the floor with a bit of room to adjust forward or back for optimum comfort. Finally, install the skeg. This will help with tracking—essentially, keep you going straight—especially in windy conditions. The skeg easily slides into the molded-in slot on the bottom of the hull. Remove the skeg if you are looking for a bit more maneuverability or paddling in really shallow or weedy waters.
Portability
Packed into its included travel bag, the Intex Explorer K2 dimensions are about 16" x 13.5" x 23"—compact enough to toss in your trunk or check as standard luggage for a flight to somewhere exotic. Assembled, the Intex Explorer K2 weight is just over 30 pounds and it has comfortable handles built into the bow and stern, making carrying it from the parking area to the put-in easy for two paddlers. It's also manageable to carry solo on your shoulder.
One slight annoyance was that I found the Velcro doesn't really hold the seats in that securely. They tended to topple out when lifting the boat on my shoulder for a solo carry. Certainly not a deal-breaker, but a bit of a nuisance.
Storage
Perhaps my favorite feature of the Intex Explorer K2 is how quickly I was able to go from paddling to driving home. After hitting shore, I was packed up in my car in less time than it would take me to tie a hard boat on the roof. Follow the instructions on how to fold and deflate, or simply open all the valves—the big Boston valves deflate super fast—and fold it so it's small enough to toss in the trunk.
To avoid moisture damage, punctures and mildew, make sure the kayak is clean and dry before storing away for any length of time. The manual also goes over proper storage, including taking all accessories out, deflating completely and avoiding shape bends, corners and creases that can damage the kayak.
Once properly put away, the Explorer K2 takes up about the same space as a microwave or medium-sized cooler.
How it compares
With so many similar inflatable kayak models, it can be overwhelming to choose which might be the best for you. Here's a look at some comparable models to help narrow down your search.
Intex Challenger K2 kayak vs Intex Explorer K2

The Intex Challenger K2 is a tandem inflatable kayak that's comparable in price and performance to the Intex Explorer K2. The main difference is that the Explorer K2 features more rocker—lift in the bow and stern—to improve maneuverability; it's also a foot shorter, further contributing to ease of handling and making the Explorer K2 a good choice if you like paddling on meandering rivers.

The shorter length also makes the Explorer K2 somewhat slower than the Challenger K2, but the difference is negligible. The biggest difference in the designs is the Explorer K2's more open cockpit, which is easier to enter and exit. Both kayaks are constructed of welded vinyl and have upper weight limits of 400 pounds.

Intex Excursion Pro kayak vs Explorer K2

The Intex Excursion Pro K2 is a step up from the Explorer K2 in terms of performance and outfitting, but the upgrades come at double the price. Serious anglers will appreciate integrated rod holders and a mounting bracket for a fish finder or other accessories. The Excursion Pro is constructed with a more durable, lightweight laminated PVC plastic for greater rigidity and UV-resistance.

At 12.5 feet long, the Excursion Pro is also faster and comes with two skeg options for good tracking in shallow or deep water. Comfort upgrades include greater adjustability in the seats, built-in foot rests and molded grab handles. Both kayaks have a 400-pound max capacity.

Intex Explorer K2 vs Itiwit

The Itiwit inflatable kayak is another option for paddlers considering an Intex Explorer K2. The Itiwit two-person kayak is about a foot longer than the Explorer K2, with slightly higher volume tubes for even greater stability. The Itiwit packs into a sleek backpack for easy transportation to and from the water. Three molded-in keels on the hull improve tracking on flatwater and, like the Explorer K2, the Itiwit's seats can be arranged for solo or tandem paddling.

The Itiwit has a capacity rating of 330 pounds, significantly less than the 400-pound capacity of the Explorer K2. Value-wise the Itiwit is about the same price, but does not include a pump or paddles. If you need greater weight capacity for two adult paddlers, the Explorer K2 is the obvious choice.

Intex Explorer K2 vs Sea Eagle 330

The 11-foot Sea Eagle 330 inflatable kayak has space for two paddlers and a maximum capacity of 500 pounds, or 100 pounds more than the Explorer K2. The added volume combined with the Sea Eagle 330's more rugged PVC construction and covered bow and stern decks makes it a better choice if you're looking to paddle moderate whitewater (up to class III with experienced paddlers).

The Sea Eagle 330 is somewhat more expensive than the Explorer K2, but is 10 pounds lighter and includes an impressive 5-year warranty (versus the Explorer K2's 90-day guarantee). If you are looking for a sturdy, lightweight craft that will last for years, the Sea Eagle is a great value.
Intex Explorer K2 Comparison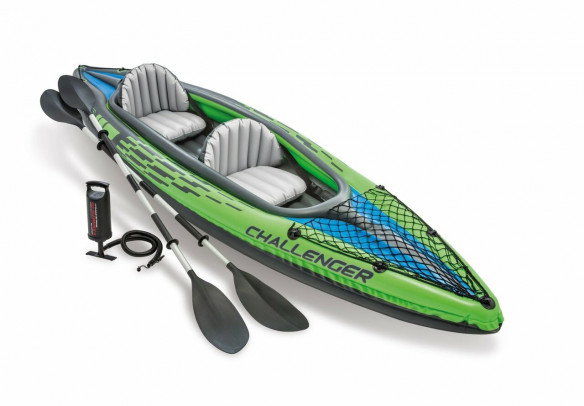 Intex
Challenger K2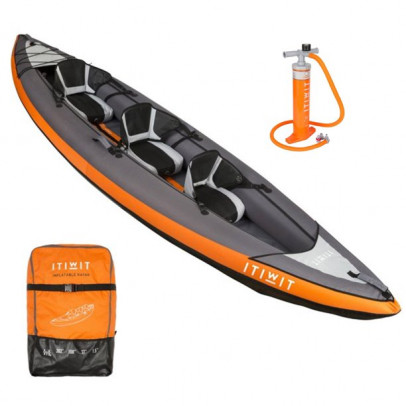 Decathlon
Itiwit KTI 100, 3-Seat
Where to buy the Explorer K2
You can buy Intex Explorer K2 kayaks from lots of online stores including Amazon, Ebay and direct from Intex. They can also be found in a number of brick-and-mortar stores, many of which offer free shipping, such as Cabela's, Bass Pro Shops, Walmart and Academy. It's impossible to list all of the potential Intex Explorer K2 stores; it shouldn't be hard to find one in most larger cities.
Intex
Explorer K2
The Intex Explorer™ K2 Kayak is sporty and fun with a streamlined design for easy paddling. The bright yellow color and sporty graphics makes the kayak highly visible in the water. Great for experiencing lakes and mild rivers with a friend, this Sports Series kayak is perfect for two adults. Lightweight and compact, this kayak is a snap to assemble, and allows you to take the fun of kayaking wherever you go. Made with rugged vinyl construction, this sturdy kayak has an inflatable I-beam floor for comfort and rigidity. A removable skeg provides directional stability, while two adjustable, inflatable seats...
Intex Explorer K2 pros and cons
Pros
Higher quality than many inflatables found in big box stores.
Great value—the kayak package includes a pump and paddles for just $250 USD.
It's supremely portable—the Intex Explorer K2 rolls up and fits in a large gym bag, even with paddles, and weighs well under 40 pounds.
Adjustable seats and generous 400-pound capacity, so it's able to be paddled tandem or solo.
Easy set up—the Intex Explorer K2 kayak goes from bag to the water in less than 10 minutes; take-down is even faster.
Super stable and the large cockpit is easy to enter and exit.
Beginner-friendly—you don't need any paddling experience to get out on calm, sheltered water in the Intex Explorer K2.
Cons
Not as durable, UV-resistant or suitable for saltwater environments as more rugged (and pricier) PVC inflatables.
Limited seaworthiness: While the Intex Explorer K2 inflatable kayak won't sink, its large cockpit and low profile allows waves to enter the boat. This design is meant for use on flatwater lakes and gentle rivers only.
Doesn't inflate as rigid as higher end boats, which makes it slower and difficult to paddle for longer distances.
Like all inflatables, the Intex Explorer K2 is prone to getting blown around by the wind, especially for beginners.
Only 90-day warranty.
As with any kayak purchase, it comes down to finding something that suits your needs and your budget. The Intex Explorer K2 is a great option for those looking to spend shorter amounts of time on the water paddling in calm conditions, and don't want, or need, to invest in more rugged equipment. It's a budget-friendly starter package that is easy to own and transport if you're a casual paddler with limited storage space.
Related articles
Intex kayak reviews
Budget kayak reviews
Inflatable kayak reviews