The Sevylor Colorado kayak is an inflatable 10.5-foot watercraft that can be paddled with either kayak or canoe paddles, solo or tandem. Sevylor was founded in France in 1948 and emerged as a pioneer in the construction of PVC inflatable watercraft (the company joined forces with American outdoor giant Coleman in the early 2000s).
With its excellent stability, the Sevylor Coleman Colorado is a good choice for anglers, and its inflatable construction combined with outstanding maneuverability makes it suitable for light whitewater paddling.
Consider the Sevylor Colorado inflatable kayak if you're short on storage space and you're looking for an economical, lightweight and versatile boat that will fit in a closet.
On the water with Sevylor's Colorado
Sevylor Colorado Specs

Length: 10'6" / 3.31 m

Width: 39" / 88 cm

Weight: 32 bs / 14.7 kg

Capacity: 440 lbs / 200 kg

MSRP:

$519 USD
Performance
Stability and capacity are the greatest design attributes of the Sevylor Colorado. This recreational boat feels rock solid and has a maximum capacity of nearly 450 pounds—perfect for two beginner or occasional paddlers, as well as solo kayak anglers with lots of gear. The drawback of being an inflatable kayak is the Sevylor Colorado doesn't have the hull stiffness of comparable hard-shell kayaks (or higher end inflatables), and so lacks their speed and efficiency in the water. Sevylor Colorado kayak reviews highlight these downsides, which make the boat feel somewhat sluggish on the water.
Market and demographics
The Sevylor Colorado kayak is meant for beginner paddlers looking for a stable, economical inflatable kayak that can be paddled with kayak or canoe paddles. It is a versatile watercraft, sold standard with two seats for tandem use, however one of the seats can be removed if you wish to paddle solo. Its inflatable design makes it extremely seaworthy and capable in modest whitewater, compared to hard-shell recreational kayaks.
Sevylor Colorado whitewater performance is reasonable, however, overall paddling is limited by the inflatable construction, which makes it slower and less responsive than hard-shell kayaks.
The Sevylor Colorado is easy to inflate and deflate and can be stored in small places, making it a convenient option if you want to experience paddling but live in an apartment. Sevylor Colorado fishing is another target demographic; this versatile inflatable provides a good option for those looking to experience kayak angling on a budget—and makes an excellent choice for adults looking to go fishing with a child.
Comfort
An inflatable kayak like the Sevylor Colorado can literally feel like paddling on air. The air-chamber seats are comfortable for some paddlers and a little too soft and unsupportive for others. The back rest is large and rigid, providing solid support into the middle of the back. Unlike most hard-shell recreational kayaks, the Sevylor Colorado lacks foot braces, an omission that makes for a sloppier fit in the boat and less efficient paddling overall.
About the Sevylor Colorado
Design
Design features and details
The Sevylor Colorado kayak gets amazing stability from a broad, flat-bottom hull. The air-filled chambers further enhance stability by molding to the water's surface, making the Colorado very resistant to capsize—an excellent characteristic for whitewater paddling. Outstanding seaworthiness is built into an inflatable kayak like the Colorado, with the air chambers offering a dry ride over the waves and the flexible hull diminishing wave spray. The Colorado's compact, 10.5-foot length allows it to turn on a dime.
Of course, the trade-off of a wider, shorter kayak is ease of paddling; you'll want to use a long kayak paddle (more than 230 cm in length) to be able to reach the water—or choose a canoe paddle instead. The flat bottom also limits the Sevylor Colorado's speed and glide. The Sevylor Colorado skeg is essential to keep the boat going straight and make paddling less frustrating on deep, flatwater.
While the Colorado is outfitted for tandem use, bear in mind its short, 10.5-foot length means you'll sit close to your partner and need to paddle in unison.
Material and construction
Following the Second World War, Sevylor introduced PVC as a rugged material for recreational boats, including canoes and kayaks. The Sevylor Colorado inflatable kayak is based on this tradition. The hull is constructed of impact- and abrasion-resistant rubberized vinyl covered in a nylon shell fabric that's UV-stable and designed to stand up to rough use.
The design remains seaworthy even if one of the air tubes is punctured. What's more, the material is easy to patch and repair using contact adhesives (a repair kit is included).
Sevylor Colorado outfitting and accessories
Sevylor Colorado outfitting is highlighted by its modular seats, which can be adjusted and removed from the kayak for use as a single or tandem. The Sevylor Colorado skeg is a removable fin attached to the stern of the kayak. Use the Sevylor Colorado fin for improved tracking in deep water paddling; remove the fin for use on shallow rivers and in whitewater.
The Sevylor Colorado kayak also features directional strakes—narrow strips molded into its bow for improved tracking in all water conditions. While it's not a standard feature, adding a motor is an upgrade popular amongst kayak anglers. To do so, you'll need to rig a motor mount near the stern of the kayak; a small 12-volt electric trolling motor offers plenty of thrust for the lightweight Colorado.
DIY tutorials are available on YouTube. The Sevylor Coleman Colorado kayak motor mount has been discontinued by the manufacturer, but you may be able to find one by searching eBay and online buy-and-sell markets.
Setup and assembly
The Sevylor Colorado inflatable kayak is easy to set up with one-way Boston valves for inflation by foot or electric pump. You should be able to prepare your Colorado in 15 minutes or less. The manufacturer recommends inflating the PVC chambers to a maximum pressure of 1.5 PSI; the kayak comes with a convenient manometer gauge to determine the correct pressure.
The Sevylor Colorado skeg is installed or removed with a simple friction fit. Deflation is fast, just be sure you rinse the hull with freshwater before and allow time for your Colorado kayak to dry before packing it away in its storage bag.
Portability and storage
At 32 pounds, the Sevylor Colorado inflatable kayak is supremely portable and easy to move, even on public transportation. When deflated the Colorado packs down to fit in a 30" x 18" x 10" duffel, perfect for apartment dwellers or other users with limited storage space.
How it compares
The value-priced Sevylor Coleman has plenty of competitors. Here's an overview of other options for paddlers in the market for a versatile inflatable kayak.
Sevylor Madison vs Colorado

The Sevylor Madison boasts similar specs to the Sevylor Colorado. The difference is in the outfitting, with the Madison featuring Sevylor's clever Seatography system, which allows you to tweak the position of the seats in the kayak to adjust for different paddler weights—perfect if you plan to paddle with a youngster.

Sevylor Colorado vs Itwit

The Itwit inflatable kayak is another option for paddlers considering a Sevylor Colorado. The Itwit two-person kayak is about the same length as the Colorado, with a slightly wider beam for even greater stability. The Itwit features a sleek backpack for easy transportation to and from the water. Three molded-in keels on the hull improve tracking on flatwater and, like the Colorado, the Itwit's seats can be arranged for solo or tandem paddling.

The Itwit has a capacity rating of 330 pounds, over 100 pounds less than the Sevylor Colorado. If you need greater weight capacity for two adult paddlers, the Colorado is the obvious choice.

Sevylor Colorado vs Sea Eagle 370

The 12.5-foot Sea Eagle 370 kayak has space for three paddlers and a maximum capacity of 650 pounds, far greater than the Sevylor Colorado. This added length and volume makes the Sea Eagle 370 kayak a better choice if you're looking to go on overnight trips or wish to paddle heavier whitewater. The Sea Eagle 370 kayak is capable of handling up to Class III rapids with experienced paddlers.
Sevylor Colorado vs Waterton

The Sevylor Waterton is very similar to the Colorado, but with Sevylor's comfortable HighRest seats and integrated bow and stern spraydecks for enhanced seaworthiness. The maximum capacity of this two-person inflatable kayak is less than the Colorado, at 363 pounds (compared to 440 pounds).

Sevylor Colorado vs Sirocco

The Sevylor Colorado and Sevylor Sirocco kayaks are virtually identical, with the same specs and paddling characteristics. Sevylor labeled the Sirocco for sale in certain markets and changed the colors from the Colorado, with a minor tweak to the boat's carrying handles.

Sevylor Yukon vs Colorado

The Sevylor Yukon is a larger two-person inflatable kayak that's a bit faster and, with partial spraydecks in the bow and stern, a drier and more seaworthy ride than the Sevylor Colorado. Foot pegs and a larger cockpit area add greater paddling efficiency and space for overnight trips. The Yukon is also better suited to paddling in moderate whitewater. Better paddling performance comes with a somewhat heftier price tag, but it's worth the investment if you want a boat that's faster, more capable and easier to paddle.

Sevylor Colorado vs Tahiti

The Sevylor Tahiti is significantly narrower than the Colorado and features kayak-style, integrated bow and stern decks, making it better suited to river paddling. The Tahiti's carrying capacity is somewhat less than the Sevylor Colorado canoe. Length and paddling performance are similar, with outstanding maneuverability and limited speed. The 10'7" Tahiti tips the scales at a feather-light 25 pounds.

Intex Excursion Pro vs Sevylor Colorado

The Intex Excursion Pro is designed for recreational paddlers and kayak anglers. It features similar specs to the Sevylor Colorado and retails for nearly the same price. The Excursion Pro is longer at 12 feet and includes two removable skegs for better tracking. Adjustable seats and foot rests complete the outfitting in this two-person inflatable kayak, making it a bit more comfortable and efficient to paddle than the Sevylor Colorado.

Sevylor Colorado vs Hudson

The Sevylor Hudson is a larger kayak than the Sevylor Colorado and comes standard with a third seat, providing more paddling options. It's a good choice for two parents with a child, or three youths (the cockpit of the Hudson is a little too cramped and the 465-pound capacity too limited for three adults). The Hudson can also be paddled solo or tandem, making it a versatile choice. Being longer, it also glides better than the more compact Colorado.

Sevylor Adventure vs Colorado

Take a look at the Sevylor Adventure if you want an ultralight, easy to assemble inflatable kayak for casual use. The Adventure is slightly shorter than the Sevylor Colorado and a full seven pounds lighter. Want something bigger? The 12-foot Sevylor Adventure Plus can be arranged as a single, double or triple kayak.

Sevylor Wabash vs Colorado

Like the Sevylor Colorado, the Sevylor Wabash kayak is a good choice for casual paddlers looking for a budget-friendly inflatable kayak. This discontinued model was originally distributed in Europe and features similar specifications and features, with kayak-style bow and stern spray decks.
Sevylor Colorado Comparison
Where to buy Sevylor Colorado
Sevylor inflatable kayaks can be tricky to find in North American stores. Check out Walmart and Amazon; Sevylor Colorado kayaks may be available through these outlets. Specifically, some Walmart stores in the United States sell a "hunt and fish" version of the Sevylor Colorado that's perfect for kayak anglers.
The Sevylor Colorado has been in production for many years and the used market is a solid bet to find a great deal. Check out Kijiji, Craigslist and Facebook Marketplace and search Sevylor Colorado eBay.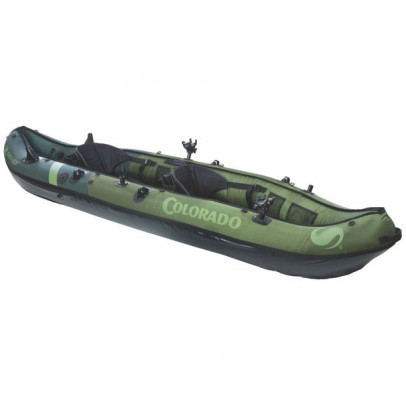 Sevylor
Colorado
Take home your catch limit with a buddy after a day in the Sevylor Colorado 2-Person inflatable kayak. With 18-Gauge Pvc, a thick tarpaulin bottom and a tough nylon cover, this kayak is durable enough to get you to your favorite out-Of-The-Way fishing hole. Just in case, though, the multiple air chambers will help you get back to shore. The adjustable seats will keep you paddling comfortably the whole trip. But if you want to move more easily, you can always add the Sevylor trolling motor and store your paddles in the convenient holders. The Berkley quick set rod holders...
Pros
Portable and affordable: stores in a closet and retails for well under $800
Lightweight—just 32 pounds
Perfect for casual paddlers and young families looking for a light and portable kayak for recreational use
Supremely versatile: use with single-bladed canoe paddles or double-bladed kayak paddles; seats arrange for single or tandem use
Stable and spacious platform for anglers
Built on over 70 years of Sevylor inflatable kayak technology—easy to assemble and remarkably durable
Cons
Slow and unresponsive compared to a hard-shell kayak. Choose a hard-shell recreational kayak if you want more glide and performance that allows you to develop paddling skills.
Related articles
Sevylor kayak reviews
Coming soon
Budget kayak reviews
Inflatable kayak reviews