The Jackson Kayak Antix 2.0 is a whitewater kayak that builds off the success of Jackson's bestselling Antix. Released in 2020, this second-generation slicey river runner has been redesigned for easier squirting, higher speed, better surfing and more confident downriver travel. According to Jackson, the revamped 2.0 brings play, river running and creeking together into a one-boat-fits-all package.
Our Medium tester Jackson Kayak Antix 2.0 measured eight feet long, 26.25 inches wide and 38 pounds. If you're looking for the most playful half-slice boat out there, this might be the one for you. Read this full Jackson Antix review to find out.
On the water with Jackson's Antix 2.0
Jackson Antix 2.0 Specs
(S / M / L)

Length: 7'7" / 8' / 8'5"

Width: 25" / 26.25" / 28"

Height: 13.25" / 14" / 14.375"

Volume: 58 / 66 / 76 gal

Weight: 34 / 38 / 42 lbs

Paddler Weight:
95–160 / 130–190 / 165–230 lbs

MSRP:

$1,399
Performance
Jackson's strong freestyle DNA shines through clearly in the Antix 2.0. Jackson has done a great job making the boat long enough to stay on the glassy-green waves that playboats flush off, yet short enough to surf smaller playboat-friendly features. In fact, the Jackson Antix 2.0 might be the most stable boat on a wave I've ever been in. It felt like I could sit on a wave and do paddle twirls until the cows came home. So, it wasn't surprising that the boat moves around on features exceptionally well, carving left and right, as well as moving up and down. All happened smoothly without any paddle input for steering or balance and no tendency to lose my upstream angle and flush off.
Pretty cool.
Moving downriver in the Jackson Kayak Antix 2.0 is confidence inspiring. For this Jackson Antix review, I headed down a few rapids, some quite rocky with a fair amount of gradient, and some large volume with massive waves and boils. The flat hull provides lots of primary stability, and aggressive bow rocker and volume distribution helped me stay high and dry and boof with ease every time. However, I did find that I needed to focus on keeping my weight forward and paddling aggressively, as is true of many half-slice designs.
Of course, we can't talk about a half-slice without discussing stern squirts. The Jackson Antix 2.0's stern is a wing shape—the top half of the tail is convex, not concave, so it sits out of the water slightly higher than other designs. This means the tail is not as grabby and doesn't catch as easily. It took a bit more oomph than I thought it would need to get it up on the flats, but on eddylines with a bit of power, the Antix was easy to get vertical and super stable once on its stern.
One of the primary design change aspects between the original Jackson Antix and the 2.0 version is the addition of an extra bit of volume right behind the seat, specifically for easy stern squirts. I've even heard it referred to as a wheelie bar. With the Antix 2.0 shorter than many other half-slice designs, it means being able to stand it up in shallower rivers as well. And though a shorter waterline means a slower hull speed, the upside is it's almost effortlessly maneuverable for tight moves.
Antix 2.0 vs the original
A reshaped planing hull makes the Jackson Antix 2.0 a bit faster than the original design. More bow rocker also helps the second-gen Antix stay drier when running big drops. The difference in length between the original Antix and the Antix 2.0 will depend on the size of the models you're comparing. Roughly, the 2.0s are a few inches longer, a quarter-inch wider, and a few gallons larger than the originals. Most of the extra length of the Jackson Antix 2.0 is in the stern. The stern of the 2.0 was also made wider than the original, which should make the boat feel more forgiving when moving downriver and make it easier and more stable to stern squirt, as mentioned above. The knee area is also roomier, and I don't feel like I'm trying to do yoga to get into the Antix 2.0.
Antix 2.0 accessories and outfitting
The Jackson Antix 2.0 has increased legroom over the original Antix, which will allow taller paddlers with longer legs to enjoy this boat. New for 2022, the Antix 2.0 includes Jackson's Bees Knees Thigh Hook System. The Bees Knees gives Jackson's whitewater boats a more secure knee fit for a better feel. According to the Jackson website, this addressed the number one request for improvement from their customers. Jackson's Bees Knees Thigh Hook System requires no tools to adjust, and it's comfortable and lightweight, easy to adjust from one person to the next, easier to repair out on the riverbank, and overall more comfortable.
Where to buy the Jackson Antix 2.0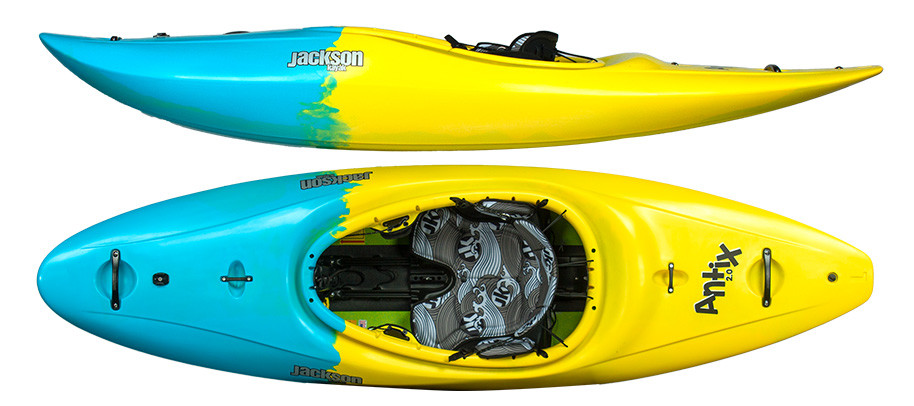 Jackson Kayak
Antix 2.0 - Medium
If you had to pick only one boat to paddle, but still wanted to be able to UNLOCK all styles of paddling, on all styles of rivers, the Antix 2.0 is the boat for you. With a reshaped, full planing hull, the Antix 2.0 is now faster, squirts with less effort, and surfs like no other. Great for both rivers and creeks, it can outplay any other half slice on the market. For all-day FUN on the water, it's the one boat to rule them all.
Slicey Stern
Uni-Shock Bulkhead System
Planing Hull
Related articles
Jackson kayak reviews
Whitewater kayak reviews